Financing.
Get better value from your building experience with our custom home builder's financing.
---
Curt Moran Builders' Financing
At Curt Moran Builders, we believe building a custom home takes hard work — but financing it shouldn't be. That's why we offer flexible builder's financing to lower the barrier of entry and simplify the home building process for our customers.
We'll take care of everything for you, so getting the home of your dreams is easier than ever.
Financing Perks
Our process streamlines construction financing so you can get started building your dream home faster, without the hassle of lender approval or the strain of interval payments. Builder's financing offers many perks over traditional construction lending, such as:
Lower rates and down payment
Flexible building timeline
Personalized qualification process
Faster home construction
Better rates and faster construction, backed by home building expertise you can trust — that's the Curt Moran Builders' guarantee.
Finance Your Custom Home Vision
Our builder's financing is great for funding your custom home vision — but can apply to other projects too! With our partners at United Bank, we can assist with cash out refinancing or carry the costs of the project until work is complete. Consider Curt Moran Builders' financing for:
New construction homes in one of our communities
New construction homes on your property
Large-scale home additions
Remodeling and renovation projects
Let Curt Moran Builders take the hassle out of construction financing. We'll manage your entire project from start to finish and earn you the best value for your investment.
Curt Moran Builders' Financing: How It Works
We've developed a transparent financing plan that works with your home building timeline, so you can get started on the build faster, then close on your completed home with one mortgage loan. Using our streamlined process, we can start building 2-3 weeks sooner than the traditional construction lending procedure.
---
Traditional Lending vs. Curt Moran Builders' Financing

You can enjoy the rewarding process of building your dream home without the delays or complications of traditional lender financing. See how our rates compare with common lending practices.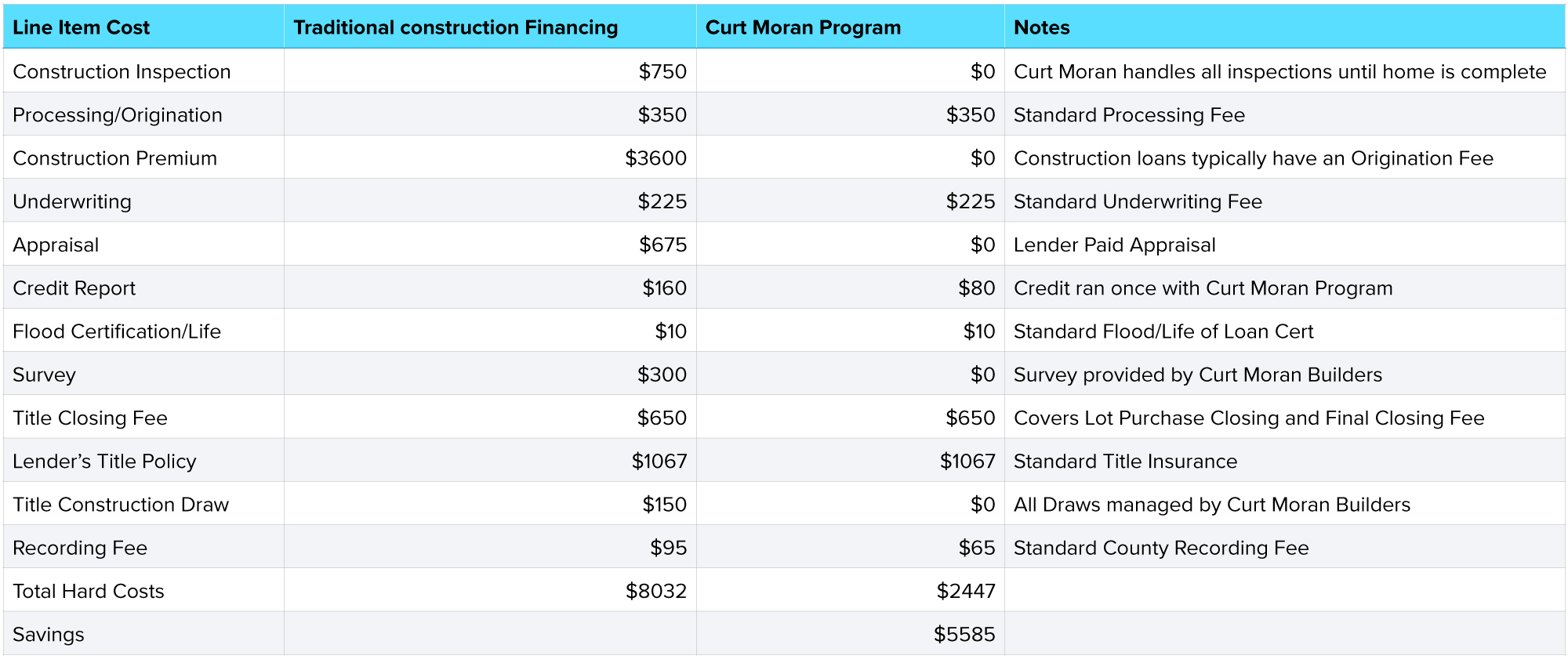 Mortgage Calculator
Estimate your monthly payment after closing on your new home mortgage.
Avoid the hassle that comes with traditional construction lending
Curt Moran Builders' financing puts your needs first. Reach out to our team for more information and to start financing your dream home today.